04/03/2019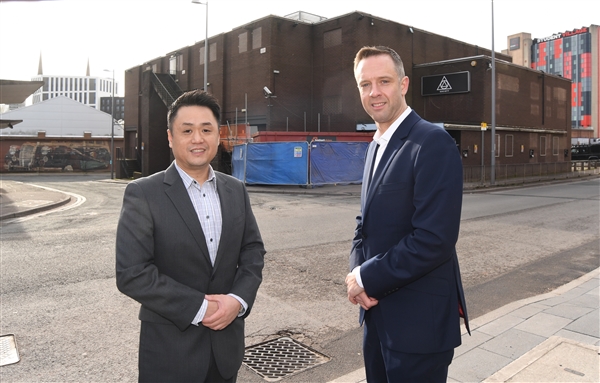 A Coventry-based entrepreneur is investing £1.3 million to create a major entertainment complex in the City Centre – and regenerate a city landmark.


Jeffy Li, the businessman behind APPS LIVING – which operates more than 1,000 student apartments in Coventry, is turning the former Pink Parrot club in Tower Street into a karaoke and e-gaming entertainment centre. Players Entertainment will be the biggest venue of its type in the UK and will be a destination for local people, students and also visitors from outside the city – with more planned around the country.
It will create more than 20 full-time and up to 30 part-time jobs in the city and Jeffy aims to have it open by September after the completing the property lease deal through Coventry-based property agents Holt Commercial.


The ground floor will be dedicated to e-gaming including private stations as well as a stage for multi-player tournaments, while the first and second floors will offer karaoke – or KTV – in 25 private rooms, the biggest of which will cater for up to 40 people. Players Entertainment will also serve light snacks and finger food as well as serving drinks. It will be open to all ages from noon until 7pm, when it would be ideal for private events and children's parties, but after that will operate a strictly over-18's until 2:30am on weekdays and 4:30am at the weekends.


Jeffy said "We are very proud to be bringing this new form of entertainment to Coventry and we want it to be a place that local people and local students can enjoy as well as attracting people into the city. It's based on entertainment venues that are very popular in Asia and are soon to catch on in the UK. We are investing heavily in the fit out, in the equipment and a karaoke system that will offer a choice of over one million songs, as well as the fastest internet speeds available. It is a very exciting time for us and we are looking forward to moving forward very quickly with this project."

It takes Jeffy's investments in Coventry to just under £20 million since he graduated from Coventry University in 2001.
Jonathan Moore, Director of Holt Commercial, said it was more positive news for Coventry City Centre. He said "It's great to see more investment coming into the City Centre and Jeffy is once again putting his faith in Coventry with this exciting new project. This new venture will bring something new to the city and will be more positive news for the local economy."

Pictured: Jeffy Li (left) and Jonathan Moore