27/11/2018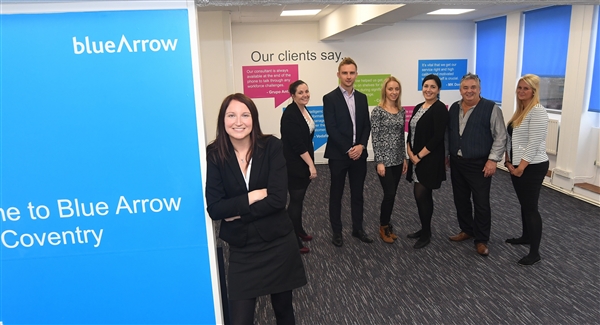 A recruitment agency in Coventry is moving offices to help it meet the demand of businesses looking to hire new staff.
Blue Arrow, which is currently based in Cross Cheaping, is relocating to first floor offices in New Union Street such is the growth in its client-base due to a healthy jobs market.

Commercial property agency Holt Commercial acted for the landlord in the deal while workspace specialists Impellam Group assisted in the move.
Danielle Cross, who runs the Blue Arrow Coventry operation, said the new office was the perfect location for them to continue to grow.
She said "This is a great place to be. We ar
e right opposite the new water park, lots of buses stop here and there's strong footfall because of so many estate agents in the area. It means we are in the right location to capture that footfall in order to fulfil the growing number of roles.
We operate in the industrial, office, catering and driving sectors and all of them are busy, especially at this time of year. Catering, particularly, is on the up as we supply staff to everyone from the Ricoh Arena to local schools and hospitals.


Overall, we have around 260 candidates out working for us right now but we are always looking for more, such is the strength of the jobs market in the city.

We differentiate ourselves by making sure everyone who works for us is treated as an individual by finding work that suits them and their lifestyle because we want them to be happy and productive for our clients.
The team is looking forward to moving in and we are grateful for the help we'd had from Holt Commercial and Impellam."
Chris Hobday, of Holt Commercial, said the property market in the city was reflecting the buoyant economy. He said "There's a lot of positivity in Coventry right now with City of Culture and new developments such as the water park.
The commercial property market is performing well and deals such as this show that if the right opportunity comes along, companies will relocate to help them grow. It is great to see national companies having the confidence to take space in the city centre when the right office space becomes available."
Pictured: Blue Arrow's Danielle Cross (front, left), with Holt Commercial's Chris Hobday (3
rd
left) and members of the Blue Arrow team.