11/05/2018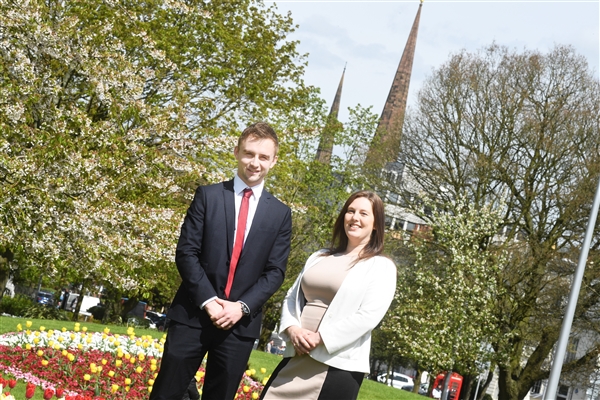 Holt Commercial, which has offices in Coventry and Birmingham, has appointed two new recruits to continue its growth.
Holt Commercial, formed after a recent merger between D&P Holt Ltd and Shortland Penn + Moore, has taken on Chris Hobday as a Chartered Surveyor and Emma Hughes as a Chartered Valuation Surveyor.
The pair are joined by Roger Stanway, now a Consultant, as Holt Commercial expands due to strong demand across Coventry, Warwickshire and the wider West Midlands.
Chris, who grew up in south Warwickshire, joins from Tapp Chartered Surveyors in Leeds, while Emma arrives from Cushman & Wakefield in Birmingham.
Both have recently qualified and will bring a fresh outlook to the team at Holt Commercial, according to Director Nick Holt.
He said: "There is really strong momentum for us as a company and for the region as a whole."
"The merger has been exciting for everyone involved and we have been extremely busy ever since the announcement was made."
"We knew we would have to expand the team and it is great to have Chris and Emma on board who are both quite early into their careers but will be great assets to the company."
"The fact that this region is now a pull for young professionals shows the great strides we have made in a short space of time and that has to be positive news for the whole area."
Chris, who graduated in Real Estate at Sheffield Hallam University, said; "I spent two-and-a-half years at Tapp Chartered Surveyors in Leeds which gave me a great grounding in the industry but my intention was always to return to this area."
"When the opportunity came up to join Holt Commercial, I jumped at it because I could see that the company – and the region – is going places and particularly with the City being awarded the City of Culture, having seen the benefits it has brought to some of the winning cities."
Emma graduated with a Bachelor's Degree in Property Investment and Management from the University of the West England before joining DTZ Birmingham, which became Cushman & Wakefield two years into her time with the firm.
She said: "My passion is to work in valuation and this was a great chance to do that with a rapidly expanding company."
"Having gained some invaluable experience at a larger firm, I am excited to be part of a growing business with a wider Midlands presence at a time when growth in Birmingham is outstripping supply and investors are looking to the wider Midlands and Warwickshire conurbation for investment and development opportunities."