08/01/2016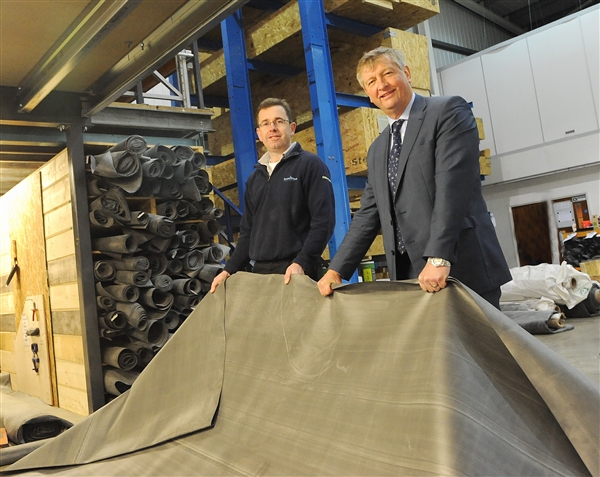 A national rubber roofing supplier based in Coventry is celebrating dramatic growth after moving into its fifth new building since the business was started in 2010.

Rubber4Roofs Ltd sells coverings and accessories for rubber roofs used on commercial and residential buildings with flat roofs.

The business was assisted in its latest move into a 12,500 sq ft unit on Swallowgate Business Park by commercial property company D&P Holt. Its previous home was a 6,600 sq ft unit on the same estate.

Rubber4Roofs is currently enjoying year-on-year growth of more than 70 per cent and this latest move is only a 100 yards from their previous home.

Managing Director Tom Cullingford said that the market for rubber roofs has taken off in recent years as the cost of other more traditional options has risen while the quality declined.

"Rubber roofs have been around more than 50 years but they are relatively new in the UK. As a country we've been happy to use bitumen based systems accepting the fact they leak and need to be repaired or replaced every 10 years," he said.

"The main system we sell is a one piece membrane which we cut to size and is widely used by the trade and DIY markets. We say a rubber roof is a 'fit it and forget it' option as there are no joints which can leak and they have a life expectancy of at least 50 years."

The business started in a 1,000 sq ft unit on Kingswood Close in Holbrooks, Coventry, where Tom hoped to attract passing trade. However, it was significant investment online which has driven the rapid growth of the business.

"From the outset we invested heavily in marketing to ensure we ranked highly in search engines. Early on we also listed ourselves on Ekomi where users can leave reviews online. That means everyone can see from our ratings and testimonials that we have lots of very satisfied customers," Cullingford said.

"The ethos behind the website is all about education and training – there is a calculator where you can find out how much rubber and adhesive is required to fit the new roof as well as videos and manuals."

After starting out on his own, Tom Cullingford now employs 14 staff and has plans to move into supplying independent builder's merchants across the UK.

"We didn't really plan for growth we've achieved and essentially we've doubled the size of our unit every time we moved," Cullingford said.

"But the speed of our expansion has caused us to be innovative as we've developed machinery to minimise space used to cut up rubber, so our turnover per square foot has grown at the same time.

"A key part of this latest move was staying in this part of Coventry, as being located next to well-known businesses who operate in related markets such as Travis Perkins and Eurocell is really useful."

Peter Holt from D&P Holt said the company's fifth move in six years showed the company had hit on the perfect formulae for growth.

"Rubberf4Roofs has enjoyed a period of rapid expansion and I'm delighted that this is the second time in two years that we've been able to find new premises for the business," he said.

"It was important for them to stay in the region as they benefit from being near a number of high profile retailers who attract customers to the area.

"The business now has major plans for new markets and this unit gives them the capacity to realise those ambitions."

The expansion means Rubber4Roofs' current 6,600 sq ft unit on Swallowgate Business Park is now available to let. Please contact D&P Holt on 024 7655 5180 for more information.

Pictured: Tom Cullingford with Peter Holt.