24/04/2017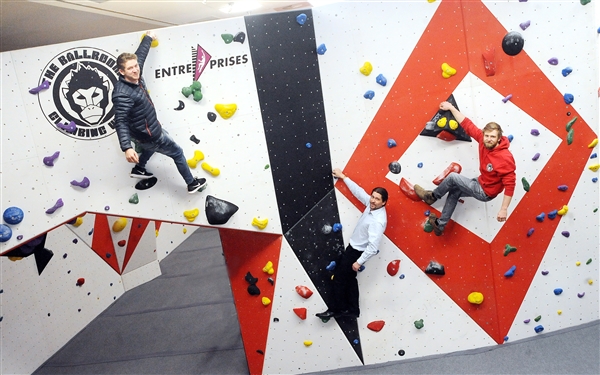 A former hotel ballroom in Coventry is scaling new heights after being transformed for a brand-new business venture.

The Ballroom Climbing Wall is based in what used to be part of the Leofric Hotel in the City Centre. Based on Ironmonger Row, the dedicated rock climbing centre came to fruition thanks to owners Ben and Sam Prior working with commercial property agents D&P Holt.

"We could not be happier with the building," said Ben. "Most centre's like ours are normally based on industrial estates, because of the size and scales that are needed. But, the fact that we're in the heart of Coventry city centre is absolutely brilliant and we could not be happier with it."

"We went to a number of firms to help find a building that would suit our needs and had landlords that were open to a change of use and D&P Holt delivered. A lot of the businesses didn't think they had anything that could meet our requirements, but Nick Holt took everything on board and came up with the ballroom and it was the perfect fit."

The centre has a number of different walls which can be used by beginners right up to experienced climbers. Colour-coded routes are mapped out along the walls and one of these will be changed each week to keep things fresh.

Coventry was chosen for the new centre after extensive research was carried out that included the whole of the country. Sam said "We carried out research of all major cities in the UK and, apart from some smaller climbing walls, we found that Coventry didn't have a dedicated centre. We thought there was a gap in the market because of this and once we saw the ballroom, we were just sold."

The brothers exchanged contracts on December 23 last year and since then have been working hard to get everything in place. They have made sure that strict safety measures are in place and have been working with Entre Prises UK on the installation of the walls.

Nick Holt, Director of D&P Holt, said "We are very pleased that this deal completed and the venue is back in use and open to the public, albeit a little different. Ben and Sam have worked extremely hard and have done an amazing job to change the ballroom around. It is something completely new and different for Coventry and I think it will be a great addition to the City Centre."

Photo: (left to right) Ben Prior, Nick Holt, Director of D&P Holt and Sam Prior.