18/12/2015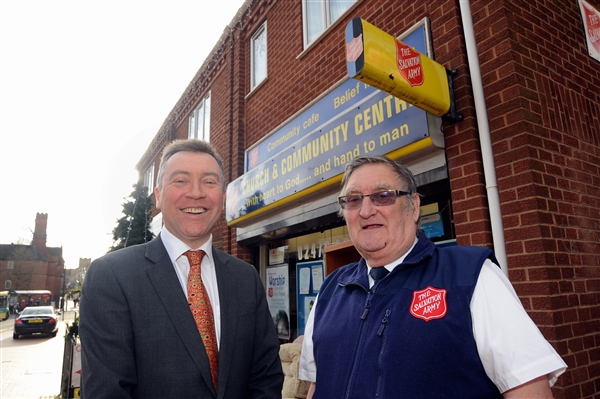 A Bedworth branch of international charity The Salvation Army, is set to support even more people in the community after extending its stay at its home on Leicester Street.

The branch, which welcomes around 300 visitors each week, has extended its lease at the property through commercial agents D&P Holt for a further ten years, which will help volunteers over the festive period and beyond to provide more support for those in need.

The charity, which has been based in the town for 23 years, initially operated as a youth centre but soon expanded to run a café, book shop and charity shop as well as a range of services and support for those in need such as people with learning disabilities, or those who are blind or vulnerable.

And, now, the Bedworth centre is gearing up for its busiest time of year as it looks to provide shelter to the homeless one day a week as well as more than 50 Christmas dinners and more than 750 toys to children, families, older people and homeless people – making it the branch's largest Christmas ever.

John Vale, who has been managing the centre since it opened in 1993, said the centre has been expanding its services for a number of years.

"As a need in the local area arises, we try to fill it," he said. "This includes employment advice and support, and we now assist at least one person into employment every month.

"We also visit five local care homes each month and even support prisoners and ex-prisoners by providing volunteering opportunities.

"The Salvation Army offers support to anyone who needs it and as such it was vital for us to stay in the town's centre where we are placed at the helm of the community and are easily accessible for anyone to reach us.

"D&P Holt provided a thoroughly professional service which allows us to do what we do best which is help more than 1,000 people in need each year. Now we have extended our lease, we are expecting our biggest Christmas yet.

"Last year we provided 704 toys and 50 Christmas dinners to vulnerable people and those in sheltered accommodation, but we imagine this year will increase by at least 10 per cent.

"Over the new year, we are hoping to set up a parent and toddler group, extend our lunch club to include Fridays and provide more food parcels, which is all part of our vision to help as many people in Bedworth as possible."

Luke Hedderwick, of D & P Holt, said: "The Bedworth Salvation Army is a valued resource and has been at the heart of the local community for more than 20 years.

"The charity provides a diverse range of support as part of their aim to help anyone who walks through the door. We are therefore delighted to have provided an easy, hassle-free service that has meant they can continue to help those in need."

Pictured: Luke Hedderwick (left) with John Vale.